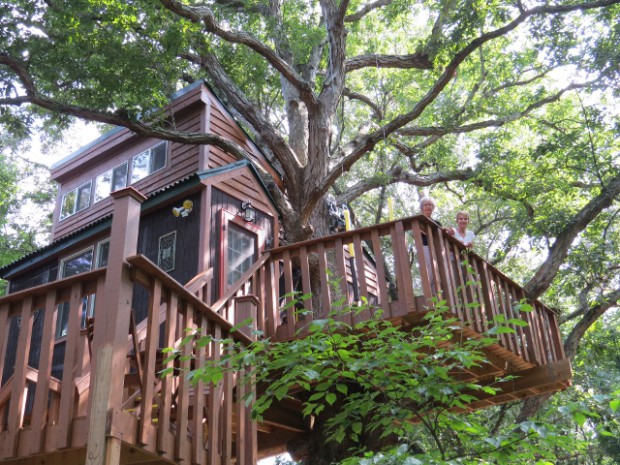 Staying in a treehouse isn't like any other accommodations. Before you eagerly book your next stay, make sure you know what you're getting yourself into. Prepare a list of your questions to ask your host before booking your next trip.
To help you get started, here are a few of the best questions to ask:
How High is the Treehouse Located Off the Ground?
Believe it or not, many vacation sites like to advertise that they have treehouse rentals, but in reality, their cabin is just about 4ft off the ground. At Timber Ridge Outpost Treehouses, we can guarantee that you will experience one-of-a-kind, authentic treehouse stays when you visit. For example, our White Oak Treehouse is 24' ft in the air and has a beautiful deck with gorgeous views.
Do the Owners Live on Site?
If you have a question or are looking for recommendations, it's always nice to have someone close by who knows the area. Often, most rentals have owners that live offsite or sometimes even out of state from the area. So, if you have a question or need help, you're on your own. However, when you stay with us at Timber Ridge Outpost Treehouses, you have unlimited access to our owners who live on-site!
Do you have a question? Maybe you need something from the grocery store? Our owners are always here and willing to help in any way that they can! When you stay with us, you also have full access to our staff at the outpost, who are always eager to help.
Are You Getting an Authentic Treehouse Experience?
Our guests love staying in our treehouses because of the charm, coziness, and excitement that it brings. The experience you receive when you stay with us is unlike any other. Our treehouses are built in large Red Maple and White Oak trees that are high above the ground. Our cabins come fully equipped with a place to sleep, a stocked kitchen, heat and air conditioning, a bathroom with a shower and toilet, a campfire area, a park-style outdoor grill, and so much more!
If you're ready to experience a vacation like no other, you've come to the right place! At Timber Ridge Outpost & Cabins, we have everything you need for an unforgettable getaway. Check out our available rentals and contact us today to learn more!