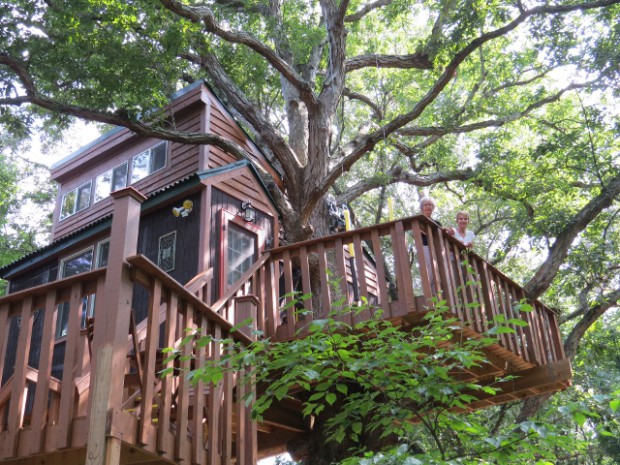 Take your camping to the next level by spending a few nights high up in a tree. That's right, a tree. Nowadays, around the U.S., treehouse camping has become a popular vacationing experience.
Here are a few reasons why staying in a treehouse would be the best vacationing experience for you and your family:
You Can Unplug from Technology
Although treehouses these days are pretty high-tech, featuring amenities like heat, air conditioning, and a fully stocked kitchen. Staying in a treehouse will help you to disconnect from your electronic devices and clear your mind. One of the best parts about vacationing in nature is that it allows you to reset and recharge away from the hustle and bustle of your everyday life.
We can guarantee, with all of the breathtaking views, you're not even going to want to be distracted by your phone.
You Can Feel Like a Kid Again
Sometimes, being an adult can be stressful. If you're looking for a vacation that will help you relax and feel like a kid again, a treehouse vacation is perfect for you! Staying in a treehouse will help bring some of the childhood nostalgia back into your life.
Plus, if you're traveling with young kids, they'll be sure to love camping in a treehouse too!
Priceless Views
When you're high off the ground, there is no surprise that you will experience some of the most incredible views. Not to mention, you can also get a better look and experience all the animals that surround you.
One thing you won't want to forget while packing for your trip is your camera to help capture all the incredible views.
Privacy
When you book a treehouse stay, you are in for a private and intimate vacation. Whether you're planning a family trip or a romantic getaway, you will appreciate being high up in the trees, away from the rest of the world.
Booking a Treehouse Rental in Illinois
At Timber Ridge Outpost & Cabins, our treehouses offer everything you need to relax in the quiet treetops. Our treehouses are located just minutes away from the Garden of the Gods in the Shawnee National Forest. It is the perfect, unforgettable glamping experience whether you're planning a romantic or family vacation.
Check out our available treehouse rentals and give us a call now at 618-264-9091 to book your next stay!